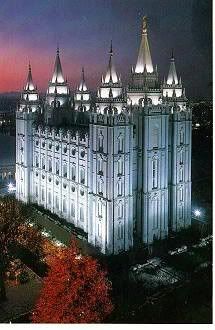 Tonight I was part of a program for the youth of our church to help them understand the importance of geneology and doing sacred temple work for those that have passed on. It was a wonderful experience to play the part of someone that has passed away and was now seperated from from their spouse waiting to for someone to find their name and have sacred work done for them.

For those of you not familiar with LDS beliefs, a large part of our sacred work involves uniting families together for those that have passed away. This sacred work is called sealing. Through the LDS Temples with the priesthood authority we are able to take real peoples names that have passed on and stand as proxy for them and do the work they were not able to do in mortality on this earth. A simple way to understand this beautiful sacred work, for example civil weddings the sermon says,"To death til you part," or "For as long as you both shall live," But because of the priesthood authority (the ability to act in the name of God) we are able to be sealed which means beyond death, "For time and all eternity."

As members we find and take names of those passed on, such as ancestors and do the work they were never able to have done. When married inside the LDS temple being sealed means not only you and your spouse will be married for time and all eternity, but your children will be sealed to you beyond death, meaning you will not be seperated as a family. Together for eternity after this mortal existence. The Church of Jesus Christ of Latter-Day Saints has the true doctrine and gospel of Jesus Christ, so we are able to do this sacred work, because of the Holy Temples dedicated for this purpose.

I testify the Church of Jesus Christ of Latter-Day Saints is true. I am so very very grateful that I was married in the LDS Temple by the sealer who had the authority to seal my husband and I for time and all eternity. And the knowledge that my children will be bound to me beyond death is priceless. I encourage those of you that love your family and want to know what happens to a loved one in the family after they have died to go to this website and read about the gospel of Jesus Christ. Know that you can and will see that family member again and can through this holy work be sealed to them beyond death. I say this in the name of Jesus Christ, Amen.

Church sites:
www.mormon.org
or
www.lds.org
Geneology sites:
www.familysearch.org
or
www.ancestory.com
If you want to know more you can have missionaries of the LDS church teach you about the gospel of Jesus Christ. It will change your life and beyond death.

Love,
Sheralyn M.