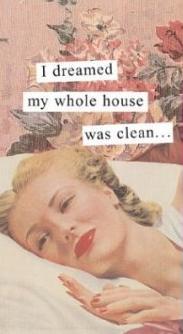 It's not even the new year yet...let alone spring...and I'm already anxious to do some housecleaning and organizing!!! (also because the Christmas dinner was at my house, so the kitchen's a mess). Really though, I want as little to worry about as possible before the baby arrives in April. But seriously, no matter how much you clean and organize, there's always more to be done, right? lol!

Two days before Christmas my sisters and mom came over for a girls night. We exchanged real gifts and elephant gifts which we all ended up with something with something we could actually use or applies to us. lol. And then we watched,"While you were Sleeping," which has always been a fav movie of ours. My sisters and I were laughing since our new LCD TV can show more details, the movie looked like a play or a reality show in a way...lol.

For Christmas my husband gave me a new LG Dare -touchscreen phone! I was such a pro-texter, now I have to get used to typing on a screen, lol, but I do love it! My parents came over for Christmas, as well as my brother and girlfriend. We had a delicious Christmas dinner. And watched "Christmas Vacation," (which there's always a few parts we have to self edit!) And of course drinking Martinelli's sparkling apple-cranberry and grape hit the spot!
My husband and I gave a copy of the church movie, "Testaments," to a good friend and neighbor, who we've talked to a lot about the gospel with. He's been talking with the missionaries a couple times. So I'm praying and praying his heart will be ready. We are giving him a Book of Mormon soon. We just felt the movie would be good first, so his family can also watch it too. I love doing missionary work! I love it, love it, LOVE IT!
*WARNING* After Christmas sales are sooo fun and dangerous! (but hey, we're saving money right?)